AGL dominated this month's news, and it was probably the most significant month in the 180 year history of AGL. Our graphic summarises the developments: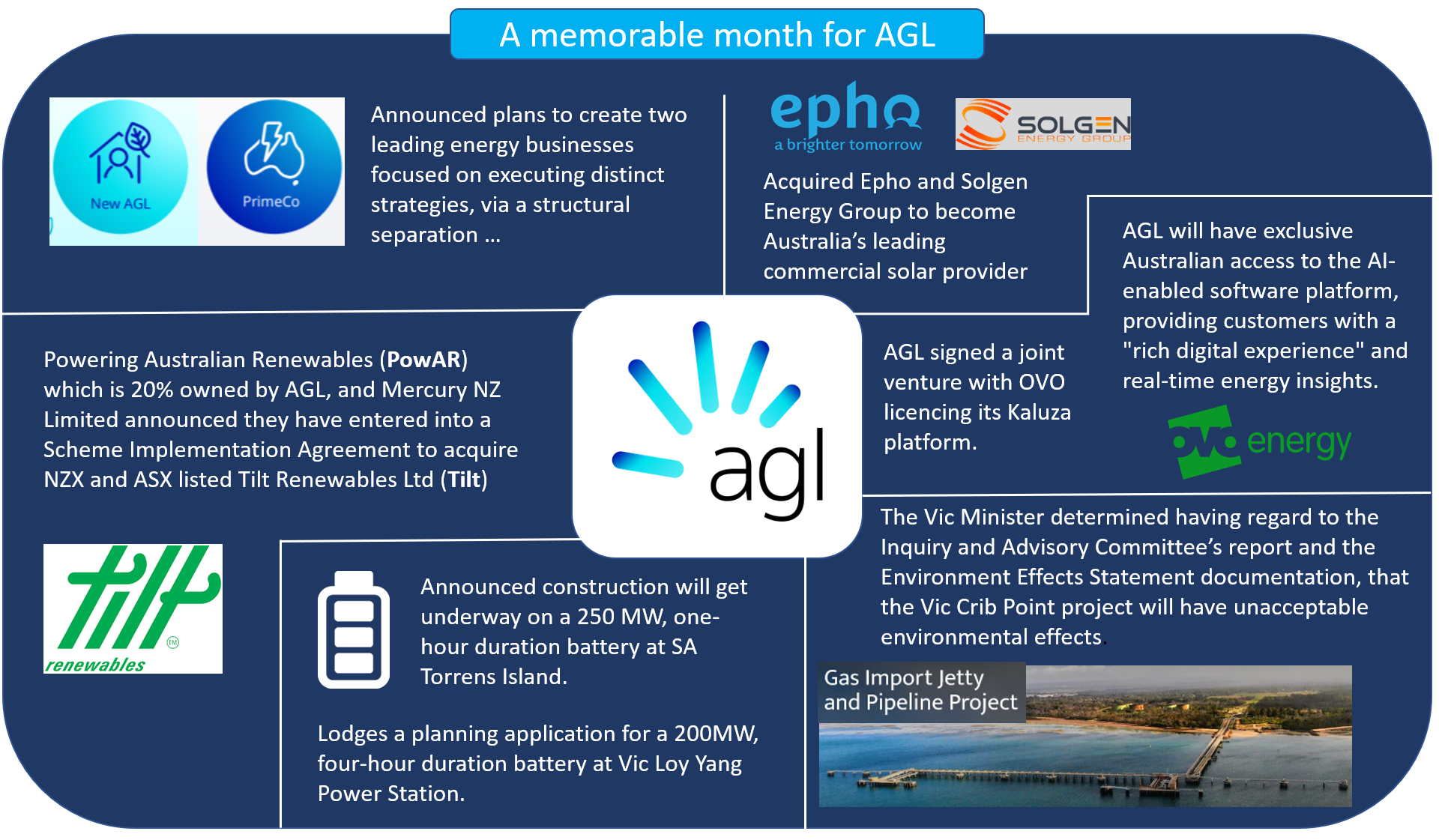 We have separated our Monthly Report into two parts, that being the Energy News and the second part our Monthly Insights and Commentary. This is our small byte edition of Energy News which has been released today and is available to all subscribers; which you are welcome to join.
Renewables:
changes to solar PV feed-in tariffs and solar PV in SA gets turned off
new solar farm in western NSW
Port Kembla import terminal includes hydrogen power station
corporate PPAs continue
solar thermal project to go ahead
hybrid solar/battery launch
solar cell costs stabilising
offshore wind advances
Storage
battery manufacturing plants launched
AGL proposing big batteries in SA and Vic
QLD Kidson pumped storage continues to seek funding
record home batteries installed
big battery announced on a former Holden site in SA
Generation
Minister Taylor implores energy players to step-up to replace Liddell
Yallourn to close early while other players claim being disadvantaged by Yallourn closure deal
long outage planned for Bayswater
Andrew Forrest committing to fast track green power
claims that a "crisis is looming" without a national transition plan
Gas Market
Port Kembla gas import terminal gains momentum while AGL's Crib Point terminal gets knocked back by Victorian Government
Santos approves Barossa gas project in NT
Snowy Hydro states gas is "wonderful" to firm renewables
Financial Sector
ENN sells Santos stake
AGL acquires Epho and Solgen
Redflow secures large sale
financial woes for GFG Alliance
Korea Zinc takes 30% stake in QLD wind farm
Portland smelter receives Government funding
Federal Government seeks greater control of Northern Australia Infrastructure Facility
AGL looks to separate into two businesses and signs up joint venture with UK based OVO Energy
An AGL consortium acquires Tilt Renewables
Climate
Renewable growth flattening out
La Nina declared over
Policy/Regulation
Labor Party cautions gas industry
Tougher AEMO grid connection obligations
ASX launch 5-minute $300/MWh cap product
Minister initiates another review of future grid needs
TransGrid announces new HumeLink route options for Snowy 2.0
The full version of our Energy News is available in our subscriber section of the Market Report. Contact us if you believe you may qualify for a discount.
---
---