Our Energy Market News is outlined below with the biggest news item being the developments undertaken by AGL. We believe that this month is probably the most significant in AGL's 180 year history summarised in the following graphic: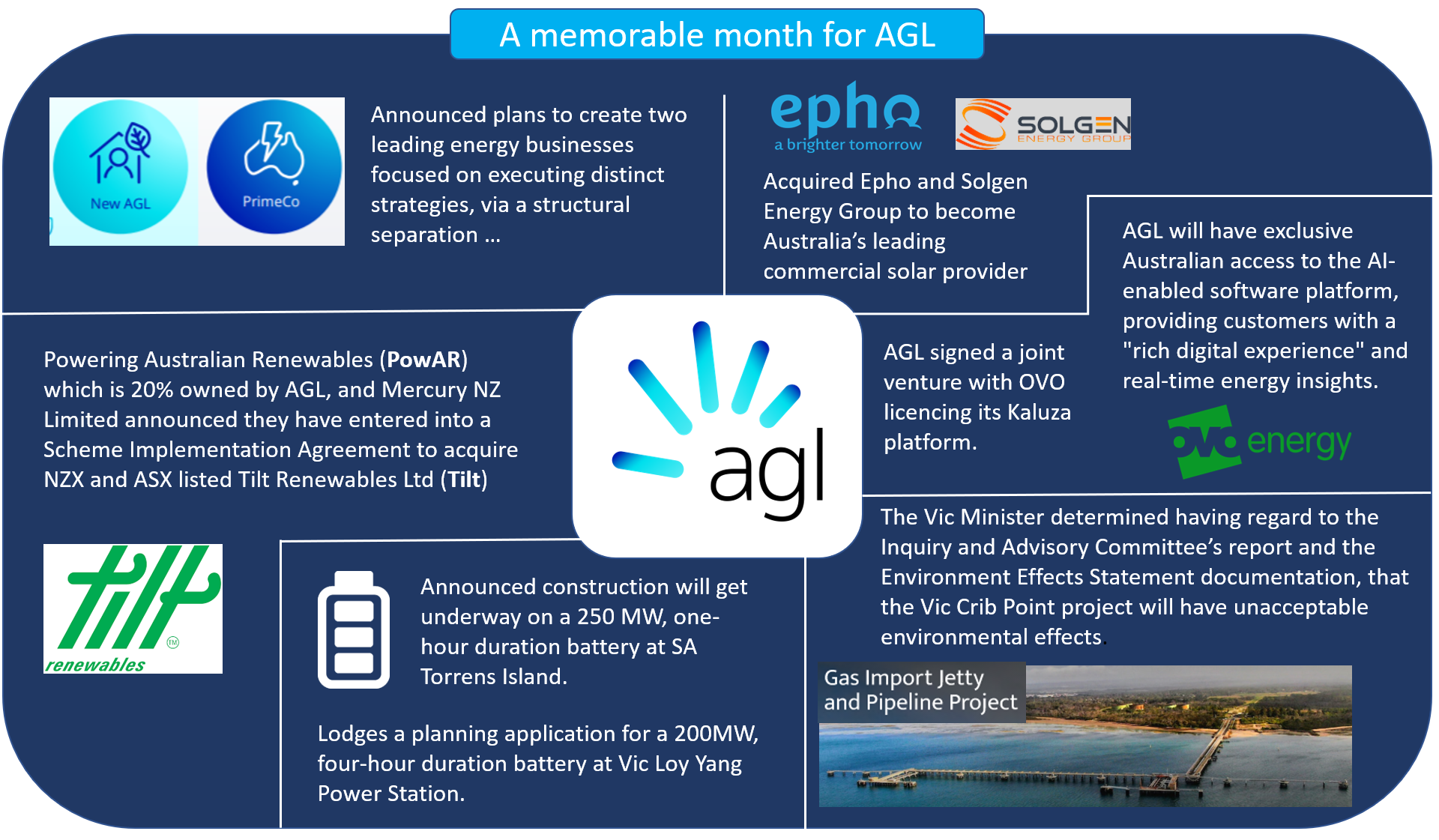 We have separated our Monthly Market Report into two parts, that being the Energy News (this document) and the second part our Monthly Insights and Commentary.
Renewables
Victoria's min solar feed-in tariffs drop by 34% (1 Mar) From July 1, 2021 excess energy generated by businesses and households and sold back to energy retailers in Victoria will attract a minimum single FiT of 6.7 cents per kilowatt hour (down from the current minimum of 10.2 cents/kWh).
BP retailing deal with Snowy for new 90 MW solar farm (11 Mar) Energy retailer/generator Snowy Hydro, has signed a deal with Lightsource BP for a new Western NSW solar farm to help deliver a 100 per cent renewable energy product to BP service stations throughout New South Wales.
Forrest shows interest in building Port Kembla gas/hydro station (16 Mar) Andrew Forrest is awaiting planning approval from the Morrison and state government, following his interest in building a gas and hydrogen fuelled power station in Port Kembla to supply affordable, green energy to Sydney and NSW industries and households.
Solar power switched off to stabilise SA electricity grid (18 Mar) When South Australia's electricity spot demand dipped to "near record minimum levels" in early March, AEMO used their new powers to remotely switch off thousands of household solar powers to stabilise the grid.
Coles aims for 100% renewable energy use by 2025 (20 Mar) Supermarket giant, Coles has inked a deal with the 228 megawatt Lal Lal Wind Farm in Victoria, in a push to be 100 per cent reliant on renewable energy by the end of 2025.
$600 million solar thermal plan for Mt Isa (22 Mar) A deal struck between Stanwell Corporation and private firm, Vast Solar to build a solar thermal plant in mining province, Mt Isa promises clean energy technology through a combination of solar panels, battery storage, gas and innovative solar thermal products.
Tasmania leads Australia's renewables race (22 Mar) Tasmania is well placed to reach its legislated target for 200 per cent renewables by 2040 with its nation leading hydrogen strategy.
New England 720MW hybrid solar/battery project commences construction (23 Mar) Construction of the first stage of UPC/AC Renewables Australia's massive $768 million hybrid solar and battery project in New England has begun.
"Falling solar module costs are behind us" (23 Mar) President of CSI Solar believes that the era of ever declining solar module prices is largely a thing of the past.
Household solar charges to rise to prevent grid logjam (25 Mar) Households with rooftop solars, of which there are 2.6 million in Australia, could be hit with higher charges to export their surplus power to the grid in a bid to head off system "logjams" to maintain local network stability.
Australia's first offshore wind project underground transmission route reveal (29 Mar) The Star of the South, Australia's first offshore wind project, has selected a route for a transmission line connecting 2,000MW of wind generation capacity to the grid in Victoria.
Storage
WA start-up races to become one of the world's first Li-ion battery anode producers (3 Mar) Western Australia's start-up International Graphite, is seeking to develop its battery anode material (BAM) manufacture to capitalise on the hunger of both investors and customers and lure the market from reliance on China.
PM promotes plans for Australia's first lithium-ion battery manufacturing plant (6 Mar) Scott Morrison has declared that an industrial area near Newcastle will be the site for the first advanced manufacturing facility of lithium-ion batteries in Australia.
Yallourn to close early, with Energy Australia to build 350MW battery (10 Mar) With plans to close the Yallourn power station early in mid 2028, Energy Australia has announced plans to build a giant, 350 megawatt utility scale battery in the Latrobe Valley by the end of 2026.
AGL plans 200 MW big battery (23 Mar) An application by AGL for a 200 MW four hour duration grid-scale battery plant adjacent to Loy Yang Power Station, has been lodged with the Victorian government.
AGL flags go ahead for Torrens big battery (26 Mar) With a view to accelerate its transition from a largely fossil fuel fleet to new technologies, AGL is powering ahead with the announcement of its 250MW big battery project in South Australia.
Genex stand alone equity for Kidston pumped hydro project (29 Mar) Announcing a $115 million share issue, Genex has announced its sole intention to raise remaining funds for the massive Kidston pumped hydro energy storage project in North Queensland after potential equity partnership fell through.
Australian households lead battery energy storage systems in 2020 (29 Mar) A 20 per cent jump on total numbers in 2019 has seen Australian households install more than 31,000 battery energy storage systems.
Former Holden site to host grid scale storage battery (30 Mar) Northern Adelaide's former Holden car factory site will host a 150 MW grid scale storage battery facility with construction by renewable energy group CEP Energy in early 2022.
Generation
Taylor: Energy suppliers need to step up to fill Yallourn shortfall (10 Mar) Following the announcement that the 48 year old Yallourn generator will close, the Federal Government has implored energy providers in Victoria to step up to ensure an affordable and reliable electricity delivery.
Victoria's Yallourn power station to close in mid 2028 (10 Mar) Energy Australia has announced the imminent closure of Latrobe Valley's ageing Yallourn power station with plans to build a 350 megawatt utility scale battery facility by the end of 2026.
Other generators at risk with Yallourn deal (16 Mar) Rival coal plants are concerned that the confidential deal struck between Energy Australia and the Victorian government may disadvantage them at a time when they are already struggling to remain viable.
Reduced generating capacity fears for NSW during maintenance (17 Mar) AGL Energy's Bayswater coal power station in NSW will undergo its biggest maintenance program resulting in a reduction in generating capacity for more than three months.
Forrest commits to NSW green power fast track (22 Mar) Mining magnate Andrew Forrest indicates he will meet the Governments deadline for a commitment to build new on demand power generation capacity in NSW whilst awaiting State development approval and Federal underwriting support.
Power crisis looms (24 Mar) With struggling coal fired power stations and the lack of a national plan to transition to renewables, Australia is facing a threat to its energy security and competitiveness.
Gas Market
Taylor pressures gas generators to build new plants (20 Mar) Squadron Energy and EnergyAustralia are feeling the heat as Energy Minister, Angus Taylor ups the pressure to commit to building new gas fired power plants in NSW to avoid gaps in supply following the Liddell coal power plant closure.
East coast gas alarm (24 Mar) The threat of gas output shortages from Bass Strait leaves Victoria in a tenuous position posing a threat to the federal government's targeted gas fired recovery, according to findings released by consultancy EnergyQuest.
Forrest willingness to fund $1 billion power station (16 Mar) Squadron Energy's Andrew Forrest has flagged his interest and willingness to build a gas and hydrogen fuelled power station at Port Kembla to ensure the supply and delivery of affordable, green energy to NSW industries and households.
Forrests LNG import terminal critical to avoid gas shortages (29 Mar) Plans by Andrew Forrest for Australia's first LNG import terminal in Port Kembla will be critical to avoid a gas shortfall in the country's southern states.
Gas is "wonderful" says Snowy Hydro CEO (29 Mar) Whilst praising the role of gas in the energy market, Snowy Hydro CEO Paul Broad says gas generators are not in competition with big battery projects.
Vic Government rejects Crib Point floating gas terminal (30 Mar) Citing unacceptable environment effects, the Victorian Government has rejected the proposal for a 300 metre long floating gass terminal at Crib Point.
Santos approval of $4.7 billion Barossa gas project (30 Mar) Energy major, Santos has given the go ahead to its $4.7 billion Barossa gas project in the Northern Territory with initial gas targeted by the first half of 2025.
Financial
ENN sells $785m Santos stake (7 Mar) Investment banks, Morgan Stanley and UBS have underwritten the block trade, offering shares following the announcement by China's ENN to sell its $785 million stake in Australia's Santos.
Epho and Solgen acquired by AGL (9 Mar) With commercial rooftop solar becoming an increasingly lucrative business, AGL has announced the acqusition of solar businesses, Epho and Solgen Energy Group to become Australia's largest commercial solar provider.
RedFlow battery company secures $1.5 million sale (9 Mar) Brisbane based company, RedFlow will provide a 2 MWh system of 192 x 10 kWh flow batteries to Anaergia's microgrid project in California.
Worsening financial woes for GFG Alliance (12 Mar) GFG Alliance has been in urgent talks to buy more time and stave off financial collapse.
AGL in $2.75 billion bid for Tilt Renewables (15 Mar) AGL Energy backed Powering Australian Renewables fund and NZ utility Mercury NZ have inked a takeover deal with renewables developer Tilt Renewables at a cost of $2.75 billion.
Korea Zinc takes 30% stake in Qld wind farm (18 Mar) Acciona's 923 megawatt MacIntyre wind farm in Queensland has been given a boost following the deal by International metals group, Korea Zinc Co to take a 30 per cent stake.
Portland smelter receives $150m government lifeline (20 Mar) Federal and Victorian government financial backing has allowed Portland's aluminium smelter, to strike an energy deal with Alinta, AGL and Origin Energy to allow the smelter to keep running until at least 2026.
Failure possibility of Collinsville coal plant study considered by Govt (26 Mar) Federal Government officials have weighed into the controversy surrounding the funding of a feasibility study into a new coal fired power station near Collinsville, with Government officials conceding doubts about the ability of chosen proponent, Shine Energy, to deliver.
Gupta and Federal government in talks (22 Mar) With the threat of an insolvency crisis enveloping the Whyalla Steelworks involving supply chain finance firm Greensill,, the Federal Government is in regular talks with steel magnate Sanjeev Gupta.
Government seeking greater powers to invest taxpayer funds (29 Mar) Plans by the Morrison Federal Government to seize greater control of the $5 billion Northern Australia Infrastructure Facility, has raised fears about how Ministers will invest funds and the greater influence they will have over fossil fuel projects across various states.
AGL Energy and OVO tap into tech platform Kaluza (30 Mar) AGL Energy has entered into a joint venture with Britain's OVO energy with the latter buying a majority stake in its Australian business and tapping into its technology platform, Kaluza.
Looming demerger of AGL Energy (30 Mar) Industry investors are anticipating a full demerger for Australia's oldest energy utility following the announcement that AGL Energy would hive off its huge coal power plants into a separate business allowing the retailer to emerge as a zero carbon electricity supplier.
AGL's carbon split to ward off climate woes (31 Mar) The forecast AGL split will see the company aim to reinvent its core business to survive in the current energy market, with "New AGL" becoming customer focused whilst being supported by fast-start gas peaking, hydro and battery technologies.
Climate
Australian renewable growth flattening out (29 Mar) A contradiction exists between the perceived state of the speed of Australia's renewables market and the reality that the country remains among those with the highest coal share, according to a new report released by the Clean Energy Regulator.
The La Nina for 2020-2021 is declared over by BOM (30 Mar) With expectations for returning neutral conditions over the Pacific Ocean and anticipated wetter-than-average conditions for the tropical north, the Bureau of Meterology has declared the La Nina over.
Policy/Regulation
Labor support cautions gas industry (2 Mar) Price and cost are still the defining factors in the targeted reforms for the gas industry, despite Federal Labor flagging broad support for gas to help meet new zero emissions goals.
Tougher AEMO obligations for grid connection (3 Mar) New obligations in grid connection are flagged by the Australian Energy Market Operator, on utility scale project developers in the National Electricity Market.
ASX 5 minute Cap Futures contract launch (27 Mar) A new contract to provide support to Australia's energy market to transition to renewable energy generation has been launched with the Australian Stock Exchange Base Load Electricity 5 Minute Cap Futures Contract.
Yet another review of future grid needs, requested by Taylor (29 Mar) Federal energy minister, Angus Taylor has indicated the Federal Government will undertake a new review of Australia's current and future grid.
TransGrid route options for Snowy 2.0 network upgrades (29 Mar) Amidst growing community concerns about the community and environmental impacts of Snowy 2.0, TransGrid have announced the release of new route options for the $2.1 billion transmission HumeLink project.
---
---