The month encapsulated 3 CEO's resigning (AGL, Stanwell and Energy Australia), followed by the Federal Government launching a $539m program on new clean energy projects, and Australia is caught out-of-step at the virtual US climate conference. The ESB releases the options paper for the Post 2025 review.
Renewables
Grid security costs less with clean energy technologies (1 Apr) A study by Canberra thinktank, the Australia Institute, has found that renewables plus batteries are more than capable of offering Australia's National Energy Market (NEM) the same energy security and reliability as the current supply of coal and gas generators.
Engie and Saputo Dairy Australia enter into renewable electricity contract (9 Apr) Global renewable energy leader, ENGIE has entered into a 10 year long term, large scale renewable power purchase agreement with Saputo Dairy Australia.
MOU signed for Green hydrogen project (17 Apr) A memorandum of understanding (MOU) has been signed with the Port of Townsville to collaborate on potential port expansion for Origin Energy's export-scale liquid hydrogen project.
ARP Australian Solar seeks Victorian government approval (20 Apr) ARP Australian Solar has applied to the Victorian Government for development approval for its 70 MW solar PV facility with a second stage battery storage system for its $105 million Morwell Solar Farm in LaTrobe Valley.
Offshore wind turbines to drive plummeting wind power costs (20 Apr) A paper published in the Nature Energy journal points to massive wind turbines as the driver for reductions in the cost of wind power over the next 30 years.
1GW to 3GW growth of WA green hydrogen project (21 Apr) A memorandumm of understanding between Total Eren and Province Resources could see the two companies have equal shares in Provinces's HyEnergy Zero Carbon Hydrogen project, which is proposed for northwest Western Australian with plans to grow from 1GW to 8 GW of renewable energy capacity.
Development green light to Queensland wind complex (21 Apr) A plan to develop a massive wind energy precinct at Cement Mills, Queensland has been given the go ahead by the state government to install 180 turbines across two wind farms totalling 1,026MW.
Storage
Proposals sought for "Big Canberra Battery" network (20 Apr) As part of a plan to massively increase Canberra's storage capacity, the ACT government is formally seeking proposals to establish a network of distributed batteries with an aim of achieving new 250MW capacity and additional storage.
Windfall returns see SA's Dalrymple battery repay ARENA grant (20 Apr) The 30MW/8MWh ESCRI ElectraNet battery storage system at Dalrymple, South Australia has earned enough revenue in its first two years of operation to return the $12 million funding provided by ARENA.
Generation
Expect blunt investment returns, warns Origin CEO (9 Apr) Frank Calabria, Origin chief executive, has warned that expected investment returns on new power generation will take a hit from government intervention.
Grattan: Renewables "too expensive" but no need for coal (12 Apr) Findings from the Grattan Institute acknowledge that Australia does not need coal-fired power stations to keep electricity bills down however concedes that rushing towards 100 per cent renewable energy will be "expensive" unless there are major technology breakthroughs to ensure back up power through winter and wind droughts.
Delta's rejected government grant flagged early closure (20 Apr) Following insufficent funding from the Morrison government to upgrades at the Vales Point coal fired power station, Delta Electricity warned that the plant could close earlier than anticipated as questions remain about the long term future of the plant.
Huge renewable energy mandate as NSW coal regions join forces (20 Apr) A group of local NSW local councils from the Upper Hunter region have joined forces to procure up to 200GWh a year of renewable electricity supply for their combined operations.
Coal void at Hunter Valley closer to being filled with pumped hydro (20 Apr) The transformation of AGL's operations is underway from company restructuring to the building of energy storage facilities for flexible distribution of renewable energy.
Clean Energy Council call for managed coal generation phase out (21 Apr) The Morrison government is being called upon by Australia's Clean Energy Council to take the lead on a managed phase-out of the nation's remaining coal-fired power plants.
Stanwell pivots to renewables, flags coal exit (21 Apr) In a delicately worded statement, Queensland government owned energy giant, Stanwell Corporation says the company's future lies in renewables and storage rather than coal, ringing a death knell for the company's two coal-fired power plants.
Stanwell CEO Resigns (28 Apr) Stanwell Corporation's CEO, Richard Van Breda has resigned abruptly, two days after telling a Gladstone future energy summit that Stanwell may progressively retire the state's major coal-fired power generators before their technical end-of-life date, sparking anger within the local community and mining and electrical unions.
Energy Australia CEO Retires (29 Apr) After 7-years leading Energy Australia, Catherine Tanna has decided to retire. Mark Collette, the chief customer officer will take-over from 1 July 2021.
Gas Market
Gas is the way forward for WA's future electricity source (6 Apr) Western Australia's McGowan government currently sees gas as the "fuel for an extended transition".
Experts who questioned gas led recovery plan accuse Government of pressure (12 Apr) A top bureaucrat has accused Energy Minister, Angus Taylor of pressuring him to change report conclusions on gas pricing related to the governments gas-fired recovery plan.
Independent report cites "sufficient uncertainty" about contamination risk (12 Apr) An independent report has cited "sufficient uncertainty" about the contamination risk in addition to questioning the accuracy of a proposal to drill hundreds of coal seam gas wells near the contaminated Linc Energy underground coal gasification plant.
Bass strait gas plan delivered by Esso Australia (20 Apr) In a bid to help curb predicted 2023 gas shortfalls in the eastern and southern states, Esso Australia has announced that gas from its Bass Strait West Barracoutta project will start flowing from winter to eastern Australia.
AEMO's plan to abandon gas-led recovery supported by major energy players (21 Apr) The Morrison government's gas led recovery plan has suffered a significant blow as Australia's largest electricity companies have backed the Australian Energy Market Operator's decision to abandon plans to model future scenario based on the next Integrated System Plan.
Gas price recovery sees Santos revenue rise (23 Apr) Kevin Gallagher, Santos Chief executive announces a first-quarter revenue rise as the South Australian producer cashed in on higher Asian LNG prices.
Time called on big new LNG projects (23 Apr) The former head of Woodside Petroleum, Peter Coleman has called time on massive, new LNG projects for Australia amidst investor concerns about climate change and the risk of stranded assets.
Exxon chairman exit (26 Apr) Following a two year stint as chairman of ExxonMobil Australia, Nathan Fay has announced his resignation.
Financial
Three parties interested in New Energy Solar assets (1 Apr) Palisade Investment Partners, Infrastructure Capital Group and a third offshore party have been short listed in the race to buy Australian assets owned by New Energy Solar.
AGL Energy split receives mixed reaction from analysts (1 Apr) A plan to split AGL Energy in two has been met with mixed reactions from analysts. Concern has grown about the electricity retailer and generator's dependence on the detail of the separation plan and energy price movements.
Whyalla steelworks operation seeks $500m (6 Apr) Talks are ongoing between Sanjeev Gupta's GFG Alliance and several special situations groups, in a bid to secure about $500m in new funding for the South Australian steel manufacturing operator following the collapse of finance provider, Greensill.
Credit Suisse court action seeks to wind up Whyalla steelworks (7 Apr) New court action brought by Switzerland's Credit Suisse is seeking to wind up South Australian Whyalla steelworks amid talks by Sanjeev Gupta to seek a government bail out, in the event of a successful court challenge.
Double carbon price prediction for Australia by 2030 (7 Apr) Analysis from carbon consultancy RepuTex, has found that prices for Australian carbon credits has surged more than 10 per cent since January and may more than double by the end of the decade, as companies implement their own net zero emissions targets moving ahead of federal government targets.
Auction into second round as FRV rejects control bid (7 Apr) A private equity led bid to take control of its Australian assets has been knocked back by solar farm owner, Fotowatio Renewable Ventures seeing them push ahead with a minority stake selldown.
Late bid for Tilt Renewables (17 Apr) Following a late share bid offer of $NZ8, QIC Ltd and AGL Energy need to decide whether to get into a bidding war with Canada's CDPQ for a deal with Tilt Renewables.
Brett Redman, AGL chief resigns (23 Apr) The sudden and unexpected resignation of AGL Energy's chief executive, Brett Redman has plunged Australia's largest electricity generator into a rapid response, with chairman Graeme Hunt parachuted into the top job temporarily.
Pressure mounts on Sanjeev Gupta's Whyalla (23 Apr) A court hearing about a push to wind up a key part of the Australian operations of Sanjeev Gupta's Whyalla steelworks, is under pressure from a string of specialist investment funds.
$6bn Shell loss (26 Apr) The Covid pandemic has been blamed for a US4.9bn ($6.3bn) annual loss suffered by Shell's Australian arm following massive writedowns and sapped demand.
Climate
2050 Net zero emissions path outlined by PM (20 Apr) Scott Morrison has outlined and all but committed to achieve net zero emissions by 2050, in a plan that he spoke to at the Business Council of Australia dinner in Sydney.
120 year old BOM rain records broken by NSW floods (20 Apr) A special report released by the Bureau of Meterology (BOM) has shown that the entire NSW coast experienced its wettest week ever during March 2021's floods with record floods occuring on the Manning and Hastings rivers and approximataely 81,900 gigalitres of water falling on the state in a week.
Morrison climate change policy being left behind by corporate action (26 Apr) Speaking in his address to the US virtual climate conference, Scott Morrison was at odds with most of the global leaders with regards to their already ambitious targets to hit net zero carbon emissions by specific dates.
Policy/Regulation
Draft plan for more grid for home solar and batteries (4 Apr) A draft determination by the Australian Energy Market Commission has been released with plans to integrate more small scale solar and batteries into the electricity grid.
All hands on deck as AEMO calls for collaboration on renewables transition (6 Apr) A new report released by the Australian Energy Market Operator (AEMO) highlighting the "incredibly fast" pace of Australia's transition from a coal and gas plant based centralised energy system to one powered predominantly by distributed renewables, is calling for collaboration from all sectors of the nation's energy industry.
WA DER Register launch receives AEMO support (18 Apr) The Western Australian government has reached a significant milestone with the release of a new AEMO register of Distributed Energy Resources (DER) for the South West Interconnect System (SWIS).
Federal government $539 million spend on new clean energy projects (21 Apr) Scott Morrison has outlined plans to allocate $275.5 million towards developing four additional hydrogen production hubs in regional areas and $263.7 million towards carbon capture and storage projects declaring that "commercialising low emissions technologies" is key to Australia moving towards net zero targets.
Santos welcomes government's hydrogen push (22 Apr) The Federal government's hydrogen and carbon capture plans have been lauded by Santos as future job creators but Santos chief, Kevin Gallagher says its $210m Moomba carbon capture/storage project still needs carbon credits.
ESB Releases Options Paper for Post 2025 (30 Apr) The Energy Security Board released the Options Paper for consultation before finalisation the recommendations by the middle of the year. The options presented included capacity payments to dispatchable generation funded by the retailers. The paper addresses preparing for old coal retirement, backing up power system security, unlocking benefits for all energy consumers of recent changes inlcuding solar PV, batteries and smart applicances, and finally opening the grid to cheaper large-scale renewables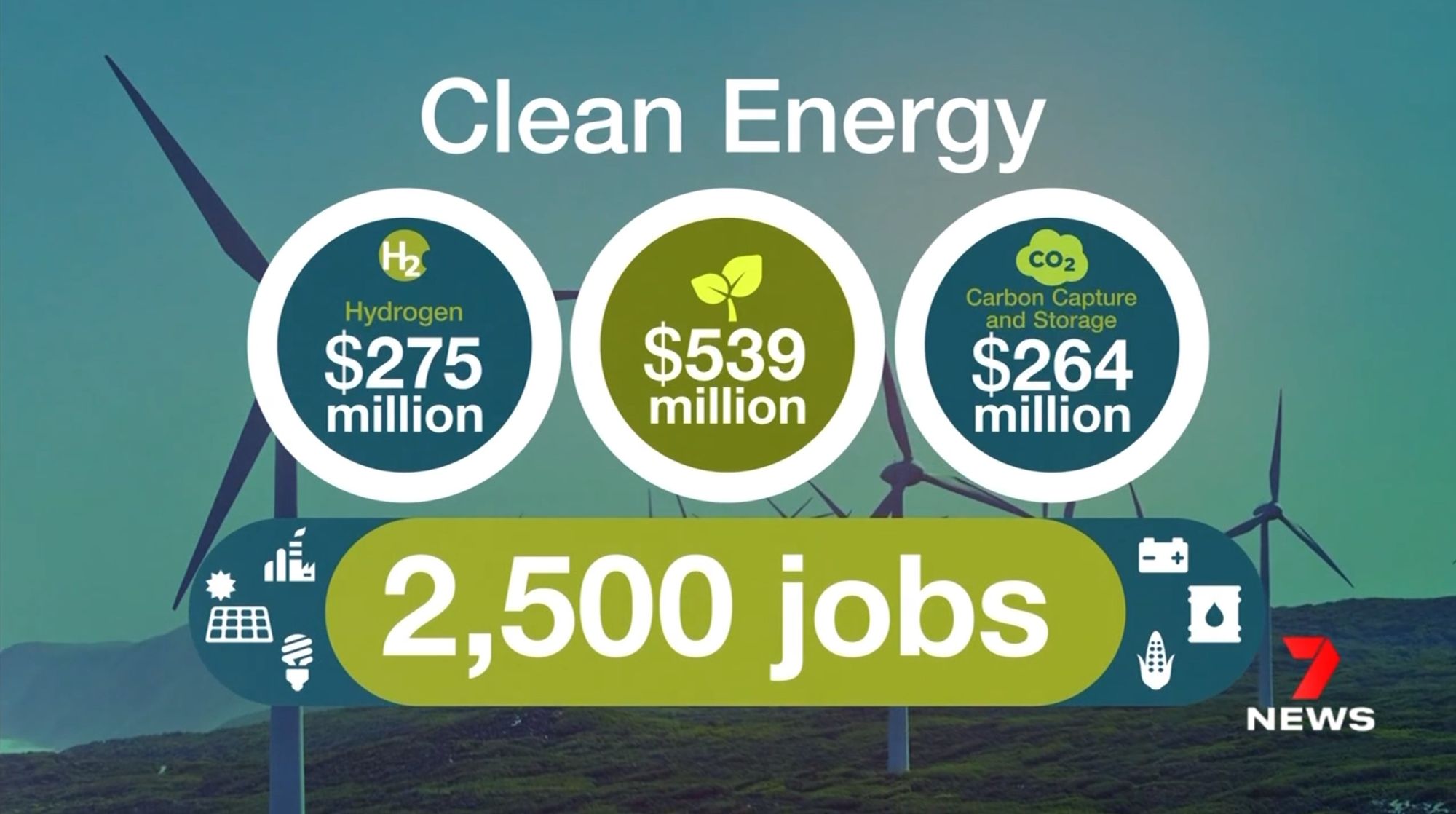 ---
---